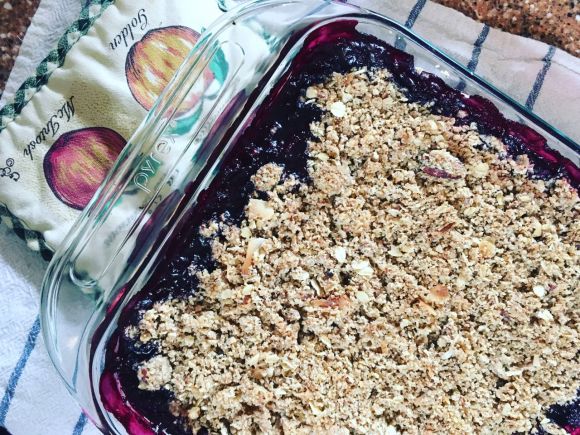 INGREDIENTS
2

tablespoon

Coconut Sugar

0.5

cup

Gluten-free Oats

-

rolled

1

tablespoon

Arrowroot Powder

0.25

cup

Chopped Pecans

0.5

teaspoon

Cinnamon

2

tablespoon

Shredded Unsweetened Coconut

-

dry

0.25

teaspoon

Whole Cardamom (Cardamon)

1

tablespoon

Brown Rice Flour

1

pinch

Sea Salt

1

tablespoon

Coconut Sugar

2

cup

Blueberries

-

fresh or frozen and thawed

0.25

teaspoon

Ground Cinnamon

0.25

teaspoon

Ground Cardamom (Cardamon)

2

cup

Red Raspberries

-

fresh or frozen and thawed

1

pinch

Sea Salt

1

tablespoon

Coconut Oil
INSTRUCTIONS
Preheat your oven to 350 degrees F. In a medium bowl combine the filling ingredients and stir to combine. Scoop the mixture into a small glass or ceramic baking dish, cover with a glass lid or cover with foil, and bake for 25 minutes. Remove from oven, stir, and uncover. Bake for an additional 5 minutes.

To make the crumble combine the rolled oats, pecans, shredded coconut, brown rice flour, coconut sugar, cinnamon, cardamom, and a pinch of salt. Stir to combine. Add in the coconut oil and mix with hands until the coconut oil is melted throughout. Evenly disperse the crumble mixture over the top. Place into oven and bake uncovered for 15-20 minutes or until the crumble is golden. Remove from the oven and serve alone or with a dollop of coconut whipped cream (or regular whipped cream).
NOTES
This dessert can also be a tasty breakfast. In place of whipped cream serve with a 24 hour homemade yogurt or your choice of lactose free yogurt if tolerated.Selva Wohlgemuth.