Crunchy Dark Chocolate Pumpkin Seed Bars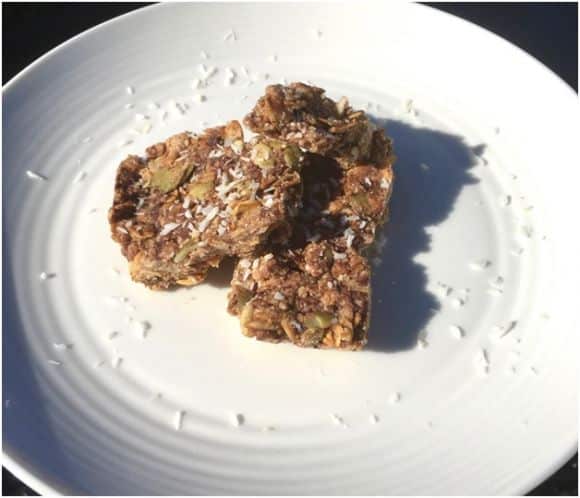 INGREDIENTS
1

cup

Oats

3

tablespoon

Quinoa

3

tablespoon

Coconut Flour

0.25

cup

Shredded Unsweetened Coconut

0.25

cup

Raw Pumpkin Seeds

3

tablespoon

70% Dark Chocolate

-

cut into chunks

0.13

teaspoon

Salt

2

tablespoon

Coconut Oil

3

tablespoon

Almond Butter

3

tablespoon

Clover Honey
INSTRUCTIONS
Preheat oven to 350 F. Line a baking sheet with parchment paper and spread the oats evenly throughout the pan. Toast the oats for about 10 minutes stirring halfway through, or until golden brown but not burnt. Pulse the quinoa in a food processor to create a flour. Once the oats are toasted, transfer them to a medium-large mixing bowl along with quinoa "flour", coconut flour, shredded coconut, pumpkin seeds, and salt. Let this mixture cool to room temperature, and stir in the chocolate chunks. Meanwhile, heat a small saucepan on medium-high with coconut oil, creamy almond butter, and honey. Stir until heated and combined. Transfer the liquid to the mixing bowl with the dry ingredients and mix thoroughly to a granola-like consistency. Line a 9 x 7 (or any smaller sized) glass baking dish with foil or parchment paper, and transfer the mixture to the container, and place it back into the oven for 12-15 minutes, or until golden brown. Remove from the oven and let cool before cutting into 12 pieces.
NOTES
Almond butter can be substituted with peanut butter, or any low fodmap friendly nut butter. The oats can be substituted with quinoa flakes as well. We recommend using certified gluten free oats, and local clover honey. This recipe used certified dairy free/gluten dark chocolate, which is recommended for the low fodmap diet.
Please note, these bars have a higher amount of honey per serving than most of our recipes. Honey contains fructose. If fructose intolerant, be cautious with your portion and try 1/2 of a bar first.
Honey contains fructose. Northern latitude honey (clover, raspberry, alfalfa) contain a closer ratio of fructose to glucose than tropical honey (like the honey that Monash University tested and noted as a high fodmap food). Since northern latitude honey contains a closer ratio of fructose to glucose, this improves fructose absorption and we find that many people with fructose intolerance can enjoy a small amount of northern latitude honey. Please try this and see how you do (easy enough to test out in tea, like Rooibos tea).
Guest Guru Patsy Catsos recommends to her patients and readers, to not include honey. If you were referred to GutRxGurus by Patsy, please omit honey from this recipe. We're happy to make a suitable substitution suggestion. Feel free to post a question in the forum!