Crispy Root Vegetable Chips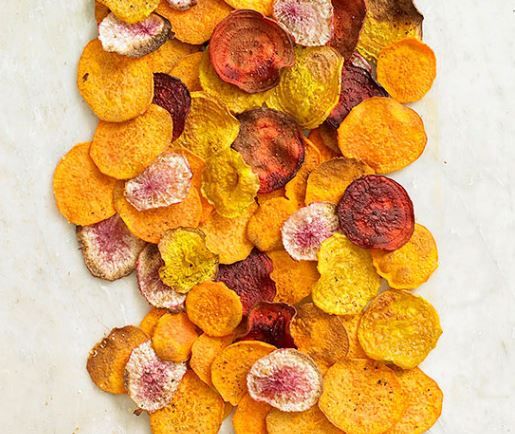 INGREDIENTS
1

Plantain Banana

-

green

2

large

Carrots

1

Parsnip

1

Sweet Potato

1

Turnip

0.5

cup

Coconut Oil

1.5

teaspoon

Sea Salt
INSTRUCTIONS
Preheat oven to 450 degrees. Line a baking sheet with parchment paper.

To make the chips, peel the plantain by slicing off the ends, then cut in half lengthwise and then using a paring knife, peel the skin off in strips. Peal the turnip, parsnip and sweet potato with a potato peeler.

Using a sharp knife, slice each root vegetable into even thin slices. If you have a mandolin slicer, this would work even better.

In a small glass bowl, melt the coconut oil in the microwave briefly, about 10-15 seconds.

Place the root vegetables in a large mixing bowl, toss with the coconut oil and salt and turn out in a single layer, onto the baking sheet. You may need to roast these in two batches.

Roast for approximately 20-25 minutes, turning once and rotating the pan (if needed) until you have crispy golden brown chips. Remove from the heat and turn out onto a paper towel to soak up any excess oil.
NOTES
you can spice these up by adding any of the dry roasted spice recipes on our site!
½ cup serving of these chips is a low FODMAP serving.