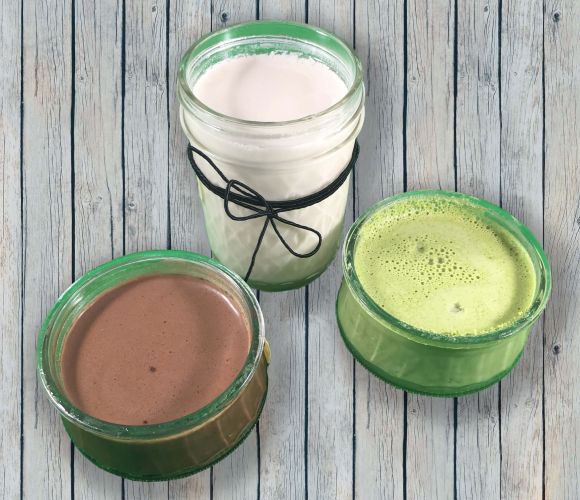 INGREDIENTS
2

cup

Coconut Milk

-

full fat coconut milk, divided

1.5

teaspoon

Unflavored Gelatin

1

teaspoon

Vanilla Extract

0.5

cup

Strawberries

-

fresh and chopped

2

teaspoon

Clover Honey
INSTRUCTIONS
To make the panna cotta, pour ½ cup coconut milk into a medium saucepan and sprinkle evenly with gelatin. Let the milk sit for 5-10 minutes to allow the gelatin to soften.

Heat the coconut milk and gelatin over medium heat, stirring constantly until gelatin is dissolved and the coconut milk begins to steam. Stir the remaining coconut milk and honey into the pan and whisk until all of the ingredients are dissolved. Remove the pan from the heat and stir in the vanilla. Let the mixture cool for 10 minutes.

Divide the mixture evenly among 6 glasses or small bowls. Cover the bowls with plastic wrap tightly, making sure the plastic wrap does not touch the cream's surface. Refrigerate for 5 hours, until cold and set. When ready to serve, top with chopped fresh strawberries.
NOTES
We recommend using Native Forest brand unsweetened, no thickeners coconut milk.
Honey contains fructose. Northern latitude honey (clover, raspberry, alfalfa) contain a closer ratio of fructose to glucose than tropical honey (like the honey that Monash University tested and noted as a high fodmap food). Since northern latitude honey contains a closer ratio of fructose to glucose, this improves fructose absorption and we find that many people with fructose intolerance can enjoy a small amount of northern latitude honey. Please try this and see how you do (easy enough to test out in tea, like Rooibos tea).
Guest Guru Patsy Catsos recommends to her patients and readers, to not include honey. If you were referred to GutRxGurus by Patsy, please omit honey from this recipe. We're happy to make a suitable substitution suggestion. Feel free to post a question in the forum!