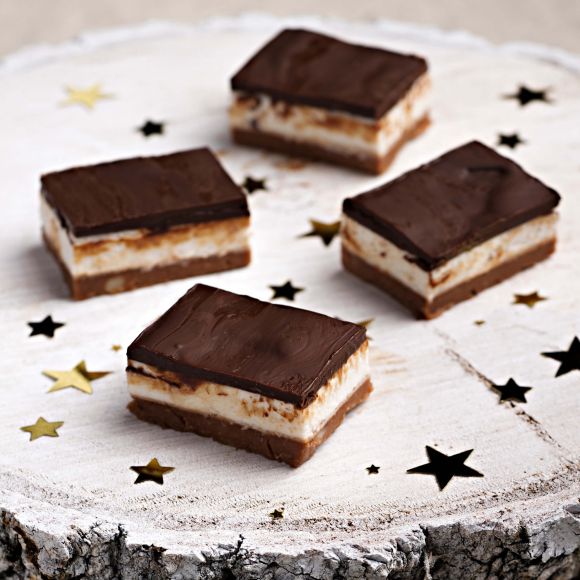 INGREDIENTS
1

cup

Macadamia Nuts

0.5

cup

Macadamia Nuts

-

soaked in water overnight

0.5

cup

Coconut Oil

0.5

cup

Shredded Coconut

0.5

cup

Coconut Milk

3

tablespoon

Cacao Powder

1

tablespoon

Cacao Powder

0.5

cup

Coconut Oil

3

tablespoon

Cacao Powder

2

tablespoon

Coconut Oil

-

melted

12

drop

Mint Extract

-

mint oil

0.5

teaspoon

Vanilla Powder

1

teaspoon

Stevia

-

natural

1

teaspoon

Stevia

-

natural
INSTRUCTIONS
Line a 20cm/8-inch square baking pan with baking/parchment paper. Place all of the ingredients for the base in a food processor. Blend until combined and to a consistency you like. Pour into the base of the pan. Spread out so it evenly covers the base. Refrigerate until firm.

Drain the macadamia nuts. Place all mint filling ingredients in a high-powered blender and blend until smooth and creamy. You can add more or less mint oil according to your taste. Pour into the base and refrigerate until firm.

Melt the coconut oil in a small saucepan. Stir in the cacao powder, vanilla, and stevia. Mix thoroughly, then pour over the filling. Refrigerate until firm.

To serve, remove from the fridge and cut into 20 squares.
NOTES
The slice will soften at room temperature, so keep it refrigerated until serving.