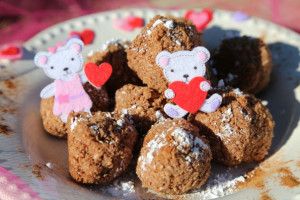 INGREDIENTS
2

cup

Shredded Coconut

2.5

tablespoon

Coconut Oil

-

melted (30 secs - 45 secs in microwave)

0.33

cup

Egg White

-

(2 egg whites)

0.25

cup

Cane (Natural) Sugar

-

organic pure

1

teaspoon

Vanilla Extract

-

organic

2

tablespoon

Rice Flour

0.13

teaspoon

Sea Salt

0.5

tablespoon

Maple Syrup

-

grade a

1

ounce

Semisweet Chocolate Baking Bar

-

melted
INSTRUCTIONS
Mix the coconut shreds, coconut oil and rice flour on high speed in a mixer.

In a separate bowl, whisk together the egg whites, sugar, vanilla extract and salt.

In a small pan, melt the bar of chocolate on medium heat. I recommend breaking the bar up into pieces before you begin. The chocolate will melt quickly. Stir consistently until completely melted then add immediately to the coconut and flour mixture and mix until the chocolate is spread throughout evenly.

Next add the eggs, sugar, vanilla extract and salt to the coconut/flour mixture on high speed for 30-45 seconds.

Add in the maple syrup

Shape the mixture into 15 (1-inch) balls and place on a cookie sheet.

Bake at 350 degrees F for 15 to 20 minutes. Remove from the oven and let stand for 30 minutes to an hour.

Option: Add a fine drizzle of melted dark chocolate to the top of the coconut balls or lightly sprinkle with cinnamon or confectioner's sugar.