Chocolate Chip Mini Pancakes With Berry Coulis And Coconut Cream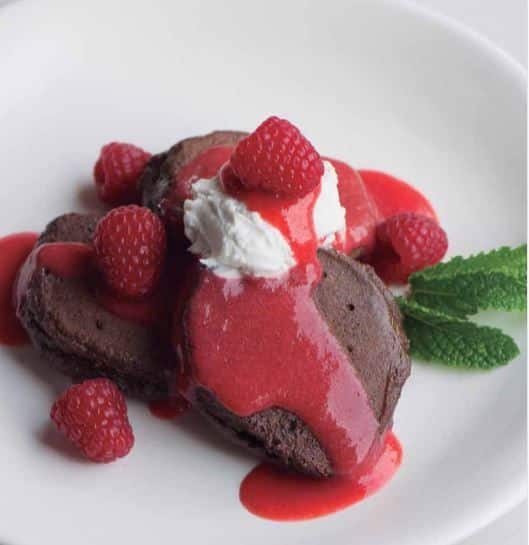 INGREDIENTS
4

Egg

2

tablespoon

Almond Meal

2

tablespoon

Coconut Flour

2

tablespoon

Cocoa Powder

-

(raw cocoa powder)

4

drop

Liquid Stevia Extract

0.5

teaspoon

Vanilla Powder

0.5

teaspoon

Baking Powder

2

tablespoon

Cacao Nibs

1

cup

Strawberries

1

cup

Raspberries

2

tablespoon

Coconut Oil

1

can

Coconut Milk

-

14 oz can,refrigerated
INSTRUCTIONS
In a large bowl, beat the eggs until well combined. Add the almond meal, coconut flour, raw cocoa powder, liquid stevia, vanilla powder, and baking powder. Mix thoroughly. Add the cocoa nibs and stir until combined. Set aside.

Set a few berries aside and then place the remaining

Berries in a blender and blend until liquefied. Strain to remove the seeds. Set aside.

Heat a large, non-stick frying pan over medium heat. Melt the coconut oil. Place 4 spoonful's of the batter in the pan. Cook for 2-3 minutes on each side. Repeat until all of the batter has been cooked.

Remove the can of coconut milk from the fridge, being careful not to shake it or move it too much. Open the can.

To serve, place 2-3 pancakes on a plate and top with berry coulis. Place a spoonful of firm coconut cream from the can on top of the coulis. Scatter with remaining berries and serve warm.
NOTES
We recommend Native Forest brand canned coconut milk, free of thickeners and sweeteners.