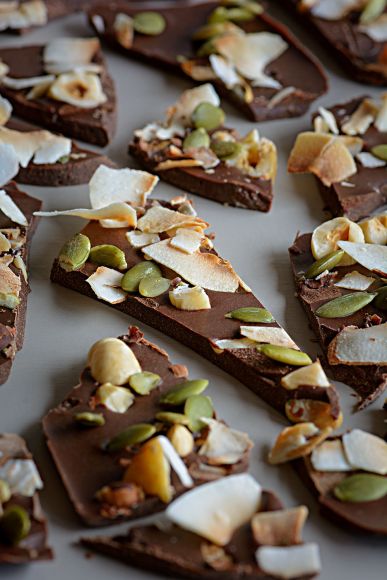 INGREDIENTS
0.75

cup

Flaked Coconut

0.5

cup

Hazelnuts

1

cup

Cocoa Powder

-

raw

0.5

teaspoon

Stevia

-

powdered,to taste

0.5

teaspoon

Vanilla Powder

2

tablespoon

Pumpkin Seeds

1

cup

Raw Cocoa Butter
INSTRUCTIONS
Preheat the oven to 350ºF. Line a baking sheet with parchment paper. Place the flaked coconut and hazelnuts on the sheet. Place the sheet in the oven for 5 minutes until the coconut is toasted and golden in color. Watch carefully as the coconut can burn quickly.

Remove from the oven. Chop the hazelnuts roughly. Set the nuts and coconut aside to cool.

Chop the cocoa butter so that the pieces are even in size. Place in a glass bowl that is microwave-safe. Microwave at 30 second intervals, stirring with a spatula intermittently.

Once the cocoa butter begins to melt, place a digital thermometer in the mixture to take the temperature. Stop heating the butter when it reaches between 105ºF-113ºF.

Sift in the cocoa, stevia, and vanilla powders, stirring as you go to prevent lumps. Taste and add more stevia if required.

Cover a cool, heat-resistant surface with parchment paper. Pour the chocolate mixture onto the parchment paper and then spread the chocolate around with a spatula until it achieves a toothpaste- thick consistency.

The key to tempering chocolate is the movement as it cools. This will give it a lovely crunch as you bite into it and a glossy finish.

Scrape the thickened chocolate off the parchment paper. Return to the glass bowl. Heat in the microwave in 5 second intervals, taking the temperature and stirring with the spatula between each round. Heat until the chocolate is between 82ºF–93ºF, and all lumps are gone. Spread the chocolate on a parchment covered sheet, sprinkle with pumpkin seeds, and place the sheet in the fridge for 5 minutes to set.

Once firm, break into shards and serve. Store remaining chocolate bark in an airtight container.
NOTES
Do not keep your chocolate in the fridge unless the weather is very warm, as it will attract condensation which can reduce the quality of your chocolate.