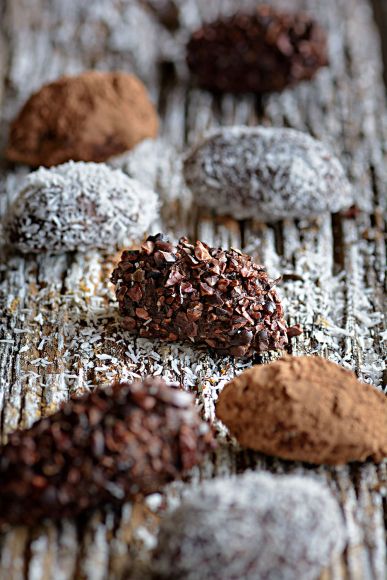 INGREDIENTS
1

tablespoon

Almond Butter

1

teaspoon

Macadamia Butter

0.25

cup

Cocoa Powder

-

raw

0.25

cup

Shredded Coconut

1

tablespoon

Unsweetened Almond Milk

1.5

tablespoon

Clover Honey

-

organic
INSTRUCTIONS
Mix the almond butter, macadamia butter, honey, raw cocoa powder, and coconut together in a bowl. Add in 1 tablespoon at a time of almond milk until all ingredients mix into a paste. You don't want this paste to get too runny, otherwise it will be hard for the bites to hold their shape.

Place the extra coconut, raw cocoa powder, and/or cocoa nibs on separate plates.

Taking 2 teaspoons, scoop a small spoonful of the mixture onto one spoon. Shape it into a tight bite with the other spoon. Use the second spoon to leverage it off the first spoon and place it in either the extra coconut, cocoa powder, or cocoa nibs to coat it.

Roll it around in the coating, then set aside on a separate plate. Repeat until all of the mixture has been turned into bites and covered with a coating. Refrigerate for 1 hour to firm up before eating.
NOTES
Honey contains fructose. Northern latitude honey (clover, raspberry, alfalfa) contain a closer ratio of fructose to glucose than tropical honey (like the honey that Monash University tested and noted as a high fodmap food). Since northern latitude honey contains a closer ratio of fructose to glucose, this improves fructose absorption and we find that many people with fructose intolerance can enjoy a small amount of northern latitude honey. Please try this and see how you do (easy enough to test out in tea, like Rooibos tea).
Guest Guru Patsy Catsos recommends to her patients and readers, to not include honey. If you were referred to GutRxGurus by Patsy, please omit honey from this recipe. We're happy to make a suitable substitution suggestion. Feel free to post a question in the forum!