Chai-Spiced Banana Muffins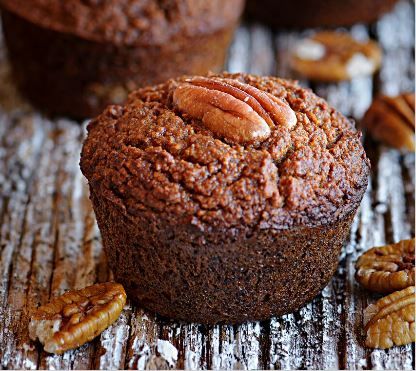 INGREDIENTS
4

Egg

2

Banana

-

mashed

3

tablespoon

Coconut Oil

-

melted

0.5

cup

Coconut Flour

1

tablespoon

Ground Cinnamon

0.5

teaspoon

Ground Nutmeg

0.5

teaspoon

Ground Ginger

0.5

teaspoon

Ground Cardamom (Cardamon)

0.5

teaspoon

Ground Cloves

0.25

teaspoon

Sea Salt

0.5

teaspoon

Baking Soda

0.5

teaspoon

Baking Powder

10

Pecans

2

tablespoon

Clover Honey

-

organic
INSTRUCTIONS
Preheat your oven to 350ºF.

Prepare a 12-cup muffin pan by greasing it with ghee or coconut oil, or by lining the pans with paper muffin liners. Set aside.

In a food processor, mix the eggs and bananas until well combined and free from lumps. Blend in the honey and melted coconut oil.

Add in the coconut flour, spices, baking soda, and

Baking powder and blend until combined.

Pour the batter into the prepared muffin pans. Place one pecan on top of each muffin.

Bake for 20–25 minutes. To test if the muffins are cooked, insert a toothpick into the center of the muffin. If it comes away clean, they are cooked.

Remove from the oven and allow to cool for a few minutes in the pan before removing and cooling on a wire rack.
NOTES
These are delicious served warm with some ghee spread over them.
They can be stored in the refrigerator for a few days or kept in the freezer and reheated when necessary.
Honey contains fructose. Northern latitude honey (clover, raspberry, alfalfa) contain a closer ratio of fructose to glucose than tropical honey (like the honey that Monash University tested and noted as a high fodmap food). Since northern latitude honey contains a closer ratio of fructose to glucose, this improves fructose absorption and we find that many people with fructose intolerance can enjoy a small amount of northern latitude honey. Please try this and see how you do (easy enough to test out in tea, like Rooibos tea). Guest Guru Patsy Catsos recommends to her patients and readers, to not include honey. If you were referred to GutRxGurus by Patsy, please omit honey from this recipe. We're happy to make a suitable substitution suggestion. Feel free to post a question in the forum!