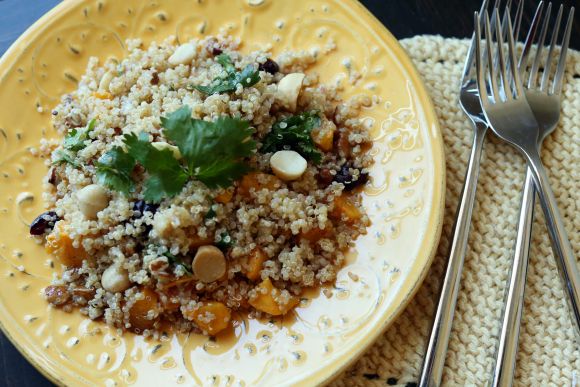 INGREDIENTS
0.5

cup

Butternut Squash

-

cut into cubes

0.06

teaspoon

Salt

0.13

teaspoon

Freshly Ground Black Pepper

2

tablespoon

Extra Virgin Olive Oil

-

divided

1

tablespoon

Dried Cranberries

-

no sugar added

1

tablespoon

Lemon Juice

-

freshly squeezed

1

tablespoon

Maple Syrup

0.13

teaspoon

Ground Cinnamon

1.5

cup

Quinoa

-

cooked

10

Pecan Halves

-

crushed

10

Macadamia Nuts

-

unsalted

1.5

tablespoon

Fresh Cilantro

-

chopped, divided
INSTRUCTIONS
Preheat oven to 400°Fahrenheit.

Place diced butternut squash in a bowl with 1 tablespoon oil, salt and pepper. Toss to coat. Line a baking sheet with tin foil and spread out squash. Place baking sheet in preheated oven and bake for 25-30 minutes or until tender.

Put dried cranberries in a small bowl and cover with boiling water. Steep for 10 minutes, and then strain fruit and discard the water.

In a small bowl, make the dressing and combine 1 tablespoon olive oil, lemon juice, maple syrup and cinnamon.

In a medium-sized bowl, add in butternut squash, cranberries, cooked quinoa and nuts. Next, pour in dressing and stir to combine. Add in 1 tablespoon cilantro and stir again to combine.

Place your Butternut Squash Salad on a serving platter and garnish with remaining cilantro.