Butter Chicken With Cauliflower Rice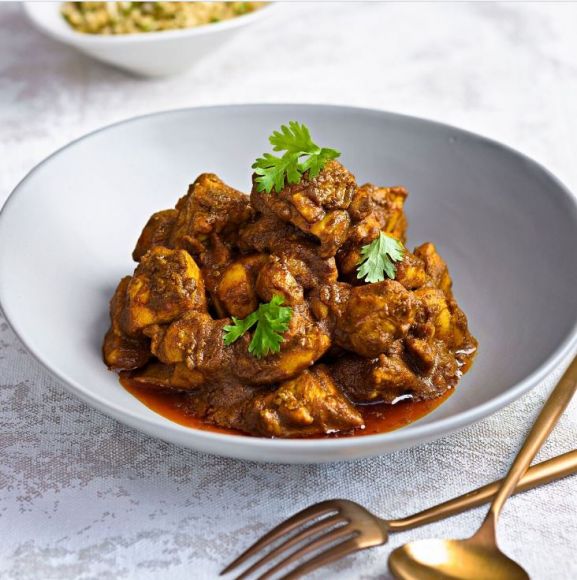 INGREDIENTS
2

teaspoon

Garam Masala

1

teaspoon

Ground Turmeric

1

teaspoon

Ground Cumin

1

teaspoon

Ground Coriander

1

teaspoon

Ground Ginger

1

teaspoon

Ground Cardamom (Cardamon)

1

teaspoon

Salt

0.5

teaspoon

Paprika

-

ground

0.5

teaspoon

Cayenne Pepper

-

ground

1

cup

Coconut Milk

6

Chicken Thigh

-

free-range cubed

2

tablespoon

Coconut Oil

2

tablespoon

Tomato Paste

0.5

Lemon

-

juiced

0.5

bunch

Fresh Cilantro

-

chopped

2

cup

Frozen Cauliflower Florets

1

tablespoon

Coconut Oil

0.5

teaspoon

Ground Cumin

0.5

teaspoon

Ground Coriander

0.5

teaspoon

Salt

0.25

bunch

Fresh Cilantro

-

chopped
INSTRUCTIONS
Make the Marinade… mix all of the spices from garam masala to cayenne together in a large bowl. Stir in 1 cup coconut milk and mix until thoroughly combined. Add in the chicken pieces and stir to cover with the marinade. Marinate for at least 6 hours or, preferably, overnight.

Make the curry…remove the chicken pieces from the marinade, reserving the marinade.

Heat the coconut oil in a wok or deep frying pan over medium-high heat. In batches, brown the chicken, then remove and set aside. Once all of the chicken pieces have been browned, return them to the pan with the remaining marinade. Stir in the tomato paste and lemon juice. Reduce the heat to low and simmer for 10 minutes.

Make the cauliflower rice…. place the cauliflower florets in a food processor and pulse until it resembles rice. Be careful not to over- process as it will turn the cauliflower into mush.

Heat a wok over high heat and melt 1 tablespoon coconut oil. Add in the cauliflower and stir-fry for 1-2 minutes. Stir in ½ teaspoon each of ground cumin, ground coriander, and salt. Remove from the heat and stir in the chopped cilantro.

To serve, divide the cauliflower rice over four bowls and top with the butter chicken. Sprinkle with some extra chopped cilantro. You could also serve this with some steamed vegetables.
NOTES
This meal contains cauliflower, which is a moderate to high FODMAP food. If you can tolerate it, please enjoy it! If you can't feel free to replace this with 1/2 cup cooked basmati rice per serving.
We recommend Native Forest brand canned coconut milk, without thickeners or sweeteners.