Blueberry Lavender Pancakes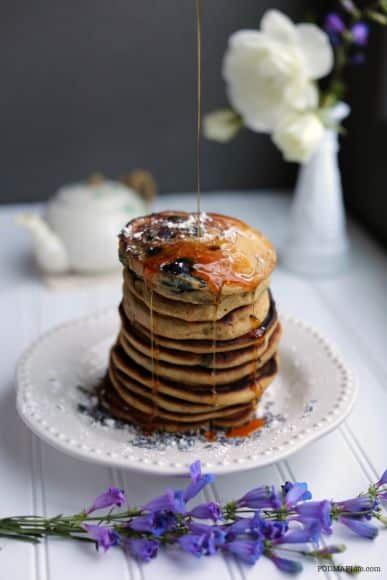 INGREDIENTS
1.33

cup

Gluten-Free Flour

1

teaspoon

Baking Powder

0.5

teaspoon

Baking Soda

0.5

teaspoon

Sea Salt

2

Egg

-

beaten

0.75

cup

Almond Milk

2

tablespoon

Coconut Oil

0.5

cup

Blueberries

-

fresh & organic

1

tablespoon

Simple Syrup

-

lavender infused (see notes)
INSTRUCTIONS
Preheat a griddle or frying pan to medium or medium-high heat (350 – 375°F).

2.Combine flour, baking powder, baking soda and salt in a medium bowl.

3.Place coconut oil in a microwave-safe bowl and melt on high for 30-45 seconds (microwave times vary).

4.In a separate bowl, whisk together the eggs, milk, melted coconut oil and simple syrup.

Using a wire whisk, combine wet ingredients into dry ingredients and whisk until smooth. Gently fold in blueberries.

6.Ladle approximately ⅓ cup pancake batter onto hot griddle or pan. Once bubbly and edges begin to thicken and are dry, flip to opposite side. Cook on each side for about 3 – 4 minutes per side.

Garnish with a pinch of confectioner's sugar and edible lavender if desired!
NOTES
Lavender gives baked goods and pancakes a lovely taste, and also goes well with lemon flavors. I was looking for a reason to experiment with pancakes recently, and am very pleased with my recipe, and I think you will just love these pancakes and the hint of lavender along with the delicate blueberries.
1. *TIP – When buying flours make sure you read labels to ensure no high-FODMAPs are in the ingredient list. I like using Bob's Red Mill Gluten-Free 1 to 1 Baking Flour for many of my recipes.