Bacon And Egg Muffins With Kale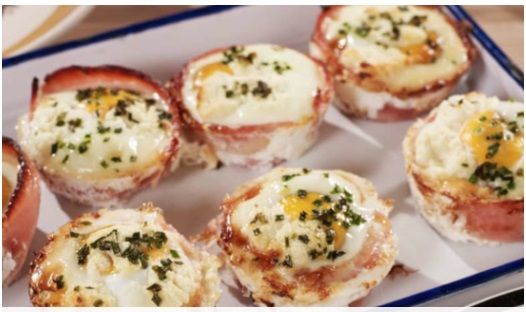 INGREDIENTS
2

tablespoon

Coconut Oil

6

Eggs

0.25

cup

Grated Parmesan

2

cup

Kale

-

chopped

0.13

teaspoon

Salt

0.13

teaspoon

Pepper

2

tablespoon

Fresh Chives

-

chopped

2

slice

Bacon
INSTRUCTIONS
Preheat oven to 400 F, and grease a muffin tray with 1 T of coconut oil.

Slice bacon into thirds vertically. Use one strip to line each tin, pressing the loops of bacon around the bottom of the tin, along the sides.Place the bacon lined tins in the oven and bake for 10 minutes. Pull from oven.

Crack 1 egg into each bacon cup, sprinkle with cheese. Bake for an additional 10-15 minutes until the egg whites are set. Let cool for 5 minutes and gently remove the cupcakes from the tray. Serve hot or warm.

When you chop the kale, remove any large veins and all stems. Heat a medium sized pan over medium-high heat with 1 T coconut oil and wilt the kale for 1-2 minutes. Season with salt and pepper.

To serve, place the sautéed kale on each plate and place two muffins on top. Sprinkle chives for a garnish.
NOTES
Make sure that there are no sweeteners, or celery salt or celery juice added. Celery is used to 'cure' "uncured" bacon. It is best to get cured unsweetened bacon.
This recipe can be made dairy free by omitting the parmesan cheese. You may also interchange the coconut oil with ghee or butter if desired.