Anti-Inflammatory Cocoa Truffles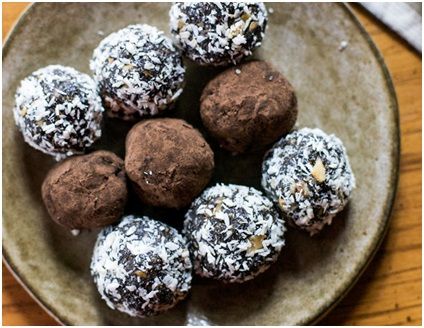 INGREDIENTS
1

cup

Walnut Halves

-

divided

1

cup

Rolled Oats

-

gluten-free

2

tablespoon

Flax Seeds

2

tablespoon

Virgin Coconut Oil

-

melted

4

tablespoon

Maple Syrup

2

tablespoon

Dark Cocoa Powder

2

teaspoon

Vanilla Extract

pinch

Sea Salt

-

to taste

Coconut Flakes

-

to taste

Hemp Seeds

-

to taste
INSTRUCTIONS
Preheat the oven to 350 degrees Fahrenheit. On a baking sheet pour the oats on one side and the walnuts on the other side. Bake for 10 minutes. Remove from oven and allow to cool.

Chop about half of the roasted walnuts, to make 1/3 cup finely chopped walnuts. Save the other half to sprinkle on your morning oatmeal or to toss into salads.

Place the cooled toasted rolled oats and the flaxseeds into a high-speed blender. Blend until the oats turn into flour.

Meanwhile in a medium mixing bowl, whisk together the 2 tablespoons melted coconut oil, the maple syrup, the dark cocoa powder, vanilla extract, and sea salt until smooth. Stir in the oat flour mixture and the roasted walnuts.

Using your hands form a large "dough" ball. Then make your own individual nut truffle balls. I usually make about 14 from one batch. Roll each ball in your choice of topping (I like dried coconut flakes the best). Store in a container in the refrigerator.
NOTES
The flavor gets better once the truffles are completely chilled. We usually make them in the evening and then enjoy the first truffle the next day.